Baptism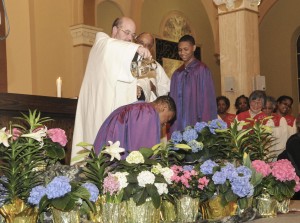 The Sacrament of Baptism celebrates the beginning of one's journey of faith. Through water and the Holy Spirit, original sin is forgiven and the one being baptized is claimed for Christ by the sign of the Cross.  Through Christ, we become adopted children of God our Father, receive the gift of the Holy Spirit and gain entrance into the Church.
Both parents must attend a preparation class in anticipation of the baptism of their first child. The class offers some basic instructions about Baptism and will also talk about the celebration of the sacrament at mass. At least one parent must be a practicing Catholic. Only one god-parent is necessary; this person must be a fully initiated, practicing Catholic.
Baptismal Preparation classes are offered four times each year; dates and times are published in the parish bulletin. For more details, please speak with Sr. Kathleen McCafferty, SND, after mass or at the Parish Office (216-581-0981 x21).