Women's Guild
Charm is deceptive and beauty fleeting; the woman who fears the Lord is to be praised.
Acclaim her for the work of her hands, and let her deeds praise her at the city gates.
Proverbs 31:30-31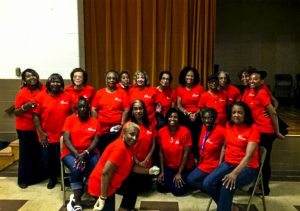 The Women's Guild of Holy Spirit Parish seeks to:
Bring together all the women of our parish community.
Promote the spiritual well-being of the members of our parish community.
Cultivate a spirit of charity and friendliness.
Work in cooperation with the pastor.
Stimulate the support of the parish through ministry.
The Guild also hosts various social events and activities during the year that are open to the larger community, such as the Line Dance Party, the Spring Raffle, a Membership Drive, day trips for shopping and sightseeing and the annual Women's Day program.
Guild members also lead the Rosary before the 10:15 Sunday Mass in May and October and help at the Wednesday Community Meal in Mulligan Hall.
This year's officers are:
President: Brunie Vega
Vice-President: Juanita Larkin
Secretary: Brenda Holbert
Treasurer: Bettye Hughes