Parish History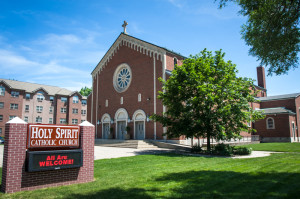 A Diverse Catholic Community Rooted in the African-American Experience
In response to the realities brought on by major demographic changes in the neighborhoods of southeast Cleveland and in response to Bishop Anthon Pilla's Vibrant Parish Life initiative, the pastoral staffs of a number of area Catholic parishes began to gather in 2005 to explore the challenges facing their communities and the real possibility of a merger of these parishes.
Ultimately, the people of St. Catherine of Alexandria, St. Timothy, and St. Henry parishes entered into a challenging time of collaboration and discernment that led to the formation of a new parish.  Bishop Richard Lennon established  Holy Spirit Parish on January 1, 2008; the first mass was celebrated on January 6, 2008, the Feast of the Epiphany, by Auxiliary Bishop Roger W. Gries, OSB.  Bishop Lennon entrusted the pastoral care of the parish to the Capuchin-Franciscan Friars of the Province of St. Augustine.  Fr. Philip Bernier, OFM Cap. was chosen to serve as the parish's first pastor.  Holy Spirit has the distinction of being the last voluntary parish merger prior to the mandated consolidation of parishes in the Diocese.  Its great success from the beginning served as a powerful beacon of hope during those challenging and painful days.  As that formal process came to a close, Holy Spirit was honored to welcome parishioners from our neighboring parishes of St. Cecilia, Epiphany, St. Adalbert (since reopened) and from other area parishes as well.
Our parishioners live in two dioceses, five counties, and in over thirty zip codes! Worship at Holy Spirit is noted for its abundant hospitality, the powerful proclamation of the Word of God, and the vibrancy of our Music Ministry.  Many visitors leave after worshipping with us saying: "I wish my parish was like this!"
We share our properties with Archbishop James P. Lyke School, helping to bring stability to our community and continuing a Catholic presence that dates back to 1898.  Building upon the strengths of our legacy parishes, this new family of faith continues to grow under the guidance of the Holy Spirit, seeking ways to deepen the faith of our members, welcome new brothers and sisters to the community and to live as faithful witnesses to the Gospel of Christ and the mission of the Church in our corner of the world.