Staff & Administration
Rev. David Domanski, OFM Cap, Pastor
Deacon Ron James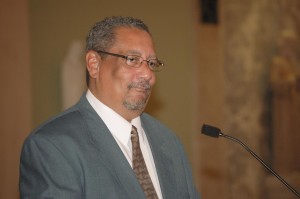 Deacon Ronald R. James retired as Deputy Chief, Cleveland Division of Police in 2001. He married his wife, Evelyn, April 11, 1966; they have three sons, Ronald Jr., Kevin, Johnathan and nine grandchildren. Deacon Ron is a graduate of the F.B.I. National Academy and the University of Virginia's Police Executive Leadership College. He is the author of several police training manuals on report writing, minority recruitment and awareness of elderly abuse. He was a member of the committee from St. Catherine's Parish that led to the creation of his current assignment at Holy Spirit Parish. Deacon Ron was ordained in May 2009, and serves on the Diocesan Committee on Gambling. His greatest joys are learning more about God, spending time with his family, preaching, and pastoral visits to the sick and shut-ins of the parish.
Deacon Shelby M. Friend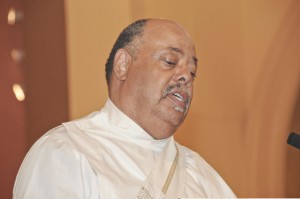 Deacon Shelby M. Friend, a convert to Catholicism, is a Vietnam veteran and was awarded the Purple Heart medal during his military service. He is a leader in both the African-American community and the Catholic Diocese of Cleveland. Deacon Friend is the author of an exciting book entitled Trouble Don't Last Always. In this book, he offers words of hope and encouragement to those who struggle with the trials and tribulations that trouble too often brings.Deacon Friend is married to Maxine G. Friend and is the father of three and the grandfather of seven. He is retired from the Cleveland Veteran's Medical Center where he was employed as a dietary supervisor. Deacon Friend was ordained to service in the Diocese of Cleveland on May 21, 1994. He began his ministry as a deacon at the former St. Henry Parish and played a vital role in the merger process that led to the formation of Holy Spirit Parish in January of 2008. Deacon Friend in presently on the staff at Holy Spirit. In addition to his preaching and teaching, Deacon generously shares his extensive culinary background and skills in support of the Bereavement Ministry, the Wednesday Community Meal and at parish celebrations throughout the year. He is currently a facilitator and organizer for the Diocesan Racism Committee. Deacon Friend has an Associate's Degree from Cuyahoga Community College and a Bachelor of Arts Degree from Ursuline College.
Deacon Shelby officially retired from his pastoral assignment on June 28, 2020, after 26 years of dedicated service.
David A. Williams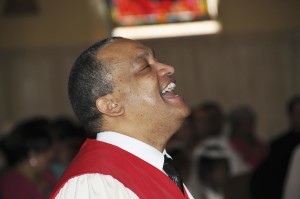 David was born in Cleveland, Ohio into a musical family. His older brother, Wayne, was minister of music at East Mount Zion Baptist Church where the family attended and W.C. Handy was a cousin to their maternal grandmother. David began his professional career as a pianist for "The Gene Carroll/Entertainment Five Show" (WEWS-TV, ABC). In junior high school at the time, he was hired as music director for the last five years of its run. During this time, he sang with the Cleveland Orchestra Chorus and studied piano and voice at Cleveland State University. David also attended Summer Music Academy in Hudson, Ohio. There, he studied choral conducting with William Appling and Robert Shaw. David then left Cleveland to attend The University of Cincinnati-College Conservatory of Music. While there, he worked on productions of Carousel; Flora, the Red Menace; Chess; Evita; Into the Woods; and Two Gentlemen of Verona. In 1988, he earned his bachelor's degree in Jazz and Studio Music. Upon graduation, he began three years of sailing around the world with Princess Cruises. David would play the main lounge shows, with small combos, or solo piano bar. In 1991, David returned to Cincinnati and in 1993, earned his master's degree in Orchestral Conducting. He then moved to Ft. Lauderdale where he musically directed shows with Jean Ann Ryan Productions for the Norwegian Cruise Line fleet. These productions included George M; Chorus Line; Dreamgirls; Hello, Dolly; Pippin; Meet Me in St. Louis; and My Fair Lady. David left Ft. Lauderdale when he started conducting over six hundred performances of Smokey Joe's Café in Reno, Nevada; Germany; Switzerland; and Brazil. He later returned to Germany for productions of Beauty and the Beast and Grease. In 2007, David joined a company of West Side Story as assistant conductor/principal pianist. The tour included performances in Italy, Holland, South Korea, Singapore, Taiwan, and China. It was the fiftieth anniversary of the show and included the Chinese premiere. A U.S. tour of I Can't Stop Loving You, a Ray Charles tribute, followed. After this, he decided to move back home to be closer to his family. Back in northeast Ohio, David performs with the Cleveland Pops Orchestra at Severance Hall and has conducted productions of Ragtime; A Little Night Music; Les Miserables; 1940's Radio Hour; 13, The Musical; She Loves Me; Jesus Christ Superstar; Sideshow; Man of La Mancha; Five Guys Named Moe; The Boys from Syracuse; and Children of Eden at various theaters.