Parish School of Religion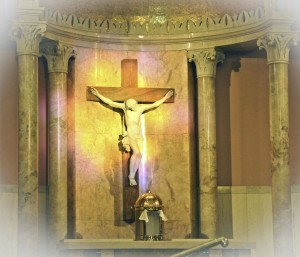 As we begin in-person class sessions for PSR in just a few weeks, please be aware that we are not returning to the way we did things before the pandemic. The class is on Sunday now, immediately after the 10:30 Mass. Class lasts only one hour, noon to 1:00 pm. That means that we will be dismissing the children at 1:00; because our PSR staff lacks much flexibility in their own family schedules, please be sure to be ready at the end of that hour to pick up those for whom you are responsible.
We will offer a refreshment for the family members dropping off their children and we promise good conversation. Rather than retreating to your car and waiting there for an hour, please come on in.
We will also provide a snack for the children immediately as they enter the building, something to hold them until class is over. One of the two teachers in each classroom will welcome the children at the door, and guide them upstairs to their classrooms where they will find a snack and the other teacher waiting for them.
PSR classes will be for one hour on the first and third Sundays of each month from 12:00 noon – 1:00 pm, beginning with Sunday, September 18th.
The complete schedule of class dates is available at the link below.
A list of the teachers at each grade level is also available here.
A registration form is available at the link below. Please complete one form for each child you are registering.
Keep visiting this page for further updates and information.
Watchful Wednesday 9/21/2022
The Gospel for this Sunday is about Lazarus and the rich man in eternity,but maybe we can look at it in our own life before we get that far. The purple garment people are those who think they are all that and a bag of chips. The poor are that, but also those that don't quite make the mark for any reason-it's a tough world out there.At school and at work we mingle together be-cause that is how society grows, but it doesn't mean others don't try to keep us in our "place".Sometimes the tables get turned, we can finally be ahead and the other has slipped down that better than you chain. How are you going to handle all that? If you have lived and breathed compassion you will see your fortune as a blessing and will help others be blessed.If you have the attitude they get what they deserve you have learned nothing from your previous misfortune. If you keep looking at your past and all the good you had and don't find good in anything of the now you will miss the beauty of all the Lord can teach you. If you listen to the words of Jesus,but never put them in your own heart and actions you may miss out on an eternity with Him the All that really matters!