Our Mission Statement
We come together as a diverse and welcoming community to glorify, praise and give thanks to God through Jesus Christ. Inspired by God's Word and the Eucharist, we go forth to serve the needs of our parish and the extended community.
We are called through the Holy Spirit to spread the Gospel message and reach out to the poor and oppressed. We are commited to know, understand and love each other as member of Christ's body.
Important Announcements
For A Synodal Church
Communion. Participation. Mission.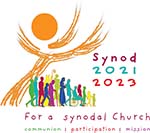 Check out this new video of the Synod process in our diocese. Listen to what those who have participated in our listening sessions have to say about their experience and what the Synod means for us as Church.

https://vimeo.com/681002964

During the listening sessions, participants were asked to identify emerging actions that could be implemented at the local level. We will continue the conversation in our parish and develop a plan to address and implement those recommendations.

At the diocesan level, the synthesis reports will be reviewed and summarized from the listening sessions, online participation survey, and family conversation starters into a working document that will inform conversations during the Diocesan Pre-synodal Gathering in June. Following the June gathering, a 10-page diocesan synthesis report will be compiled and sent to the United States Conference of Catholic Bishops (USCCB).

As soon as our summary report is completed, we will share it with the parish at large as well as forward it to the diocese.
Black Catholics from Migration to Revolution
How the Great Migrations of African Americans to the urban north forever changed what it meant to be Catholic in the U.S. This lecture/event is free and may be of interest to many in our congregation.

Tuesday, May 17th at 7:30 pm (Eastern time)

https://www.eventbrite.com/e/black-catholics-from-migration-to-revolution-tickets-203280205567
Watchful Wednesdays
Over the last two years, our PSR teachers for the 7th and 8th grades (Faith Conroy and Tom Fett) have been writing short scriptural reflections for their students to keep the learning and reflecting going on between formal class sessions. Every Wednesday they send a little something to the whole class.

These reflections have become very popular also among the other PSR teachers and staff. And now, we are beginning to offer these thoughtful musings to the entire parish by posting them to our website and adding them to our Facebook page.

Treat yourself to a prayerful moment by looking for Watchful Wednesdays each week on our
PSR page (click here)