Our Mission Statement
We come together as a diverse and welcoming community to glorify, praise and give thanks to God through Jesus Christ. Inspired by God's Word and the Eucharist, we go forth to serve the needs of our parish and the extended community.
We are called through the Holy Spirit to spread the Gospel message and reach out to the poor and oppressed. We are commited to know, understand and love each other as member of Christ's body.
Important Announcements
Advent Revival, December 8, 9 and 10
Please click here to see the flyer
Synod on Synodality 2023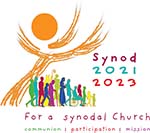 In April of this year, Pope Francis initiated a synodal journey of the whole People of God the world over, which began last month and will culminate in October 2023 with an international assembly known as the Synod of Bishops. An opening ceremony was held in Rome on Saturday, October 9th.

The Synod on Synodality is a two-year process of listening and dialogue within the church and among all its members. Pope Francis invites the entire church to reflect on a theme that is decisive for our life and mission: "It is precisely this path of synodality which God expects of the church of the third millennium." This journey, which follows in the wake of the church's renewal proposed by the Second Vatican Council, is both a gift and a task: by journeying together and reflecting together on the journey that has been made, the church will be able to learn through our experience which processes can help us to live communion, to achieve participation, to open ourselves to mission.

Bishop Malesic celebrated an opening liturgy on Sunday, October 17th in the cathedral which began the diocesan phase of the three-year journey of consultations and discernment.

Through the end of the year, all baptized Catholics are invited to participate in this process of listening, dreaming, and discerning God's call for the church amid the present signs of the times. The diocesan discernment will culminate in a "Pre-Synodal Meeting" early next year.

Keep an eye on this space for ongoing information, updates, and invitations to participate.
NEXT PSR CLASS
The next PSR class is on Saturday, December 11th. This is the only scheduled class this month because of the Thanksgiving holiday.
Giving Tuesday 2021
On Tuesday, November 30, we ask that you keep our youth in mind. Donations made to Holy Spirit Parish through We Give Catholic will be given to the parish's Holy Spiriteens for the support of their community.

Holy Spirit Church | #WeGiveCatholic