Archbishop Lyke School
Archbishop Lyke School was named after the first African American bishop in Cleveland, Archbishop James P. Lyke. It has served the families of the southeast area of Cleveland since 1993, when St. Henry and St. Timothy Schools closed and merged to become Archbishop Lyke School. With the closing of nine other parish schools, it is now the only Catholic elementary school in the southeast area of Cleveland. Archbishop Lyke School is currently a two-campus school under the jurisdiction of the Diocese of Cleveland.
Elementary Campus – Grades K-4                                                      Middle School Campus – Grades 5-8
18230 Harvard Avenue                                                                          4351 East 131st Street
Cleveland, Ohio 44128                                                                            Garfield Heights, Ohio 44105
(216) 991-9644                                                                                           (216) 581- 3517
School Website: www.archbishoplykeschool.org
Through the collaboration of parents, faculty, staff, and students Archbishop Lyke School creates a Christian educational community where quality education is offered. Our school focuses on Gospel Values and Catholic beliefs and tradition. A nurturing and caring learning environment infused with faith-based teaching serves as fertile ground for academic success, leadership training, and service to others.
The curriculum of Archbishop Lyke School attempts to ensure that academic success is attained by all of our students. The school is fully accredited by the State of Ohio/Ohio Catholic Schools Accrediting Association.
The curriculum includes: Religion, Language Arts, Mathematics, Science, Health, Social Studies, Music, Physical Education, Computer Education, Art, and Spanish.
We are continuing the commitment of Archbishop James Patterson Lyke to bring equal opportunities to all people along with quality education for children in the city. Archbishop Lyke students are challenged to honor his tradition by claiming his motto: Christ our Peace.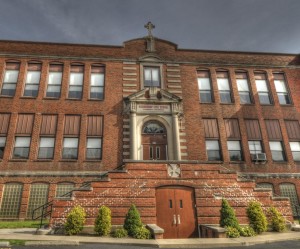 ____________________________________________________________________
TEN SCHOOLS – TEN TRADITIONS – TEN LEGACIES – ONE MISSION
Archbishop Lyke — Epiphany — Holy Family– Mt. Pleasant Catholic — Our Lady of Peace
St. Catherine — St. Cecilia — St. Henry– St. Mary of Czestochowa — St. Timothy